Yesterday, I returned from an invigorating three days – Note… that's not "three days" so as to qualify as a temporary residence 😉  – in Houston, Texas, where Gail and I represented Florida Action Committee at the National Association for Rational Sex Offense Laws (NARSOL) conference. This was my sixth year attending and each year I return with fresh ideas and a renewed commitment to doing everything I can to end the injustice of the registry.
This year's conference had the largest attendance in the 11 years they have been having them, indicating that more people are joining the fight. Invariably I will always run into a handful of people who have a Florida city listed on their name tag who have never heard of FAC. It's a reminder that we need to be doing a better job of connecting with other people on the registry who don't know that a reform movement exists. By reaching them, we offer hope and support to those who presently have none and we also expand our strength by adding new voices to our fight. We should always be thinking of ways to reach out to the community – if you know of any opportunities to speak, present or exhibit, please let us know.
At the awards dinner, two of FAC's strongest advocates were honored with awards. Gail Colletta and Captain Charles (Bob) Munsey received recognition for their dedication and hard work. Both are very deserving. FAC received many complements from attendees across the country who read our site, call into our member calls and find our organization to be a useful resource for information, referrals and support. It's incredibly motivating to know we are reaching people and doing something useful. We will keep at it, getting better, stronger and not stopping until the registry is abolished.
The most useful take away from attending, was the ability to speak with other advocacy groups and attorneys and brainstorm ideas. Gail and I formulated a game plan to address Florida's policy of maintaining a registry of more than seventy-three thousand people, when fewer than half are actually in the community. We will be implementing this shortly.
This coming week we will be attending The Alliance for Constitutional Sex Offense Laws (ACSOL) Conference. A more comprehensive update and take-aways will follow our return. In the mean time, please excuse any delays in updating you, but be assured that a lot is going on!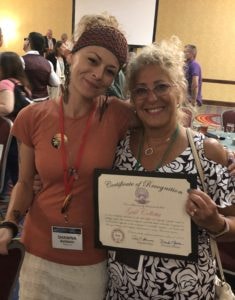 FAC President Gail Colletta and Shawna Baldwin from the documentary "Untouchable"