Let's preface this post by saying we strongly condemn the actions this pediatrician is accused of. We hope Senator Book's children, and all the former patients of this doctor, are safe and were not harmed.
---
A popular South Florida pediatrician was arrested and charged with three felonies. Among the crimes he is charged with is possession of child pornography and online solicitation of a minor. In an online post, Senator Lauren Book wrote, "This was my child's pediatrician. I had no idea. No alarm bells went off. Nothing. Let this serve as a warning – ANYONE can be a predator, regardless of profession, level of education, interpersonal skills, zip code, etc. If I can be caught off guard, anyone can."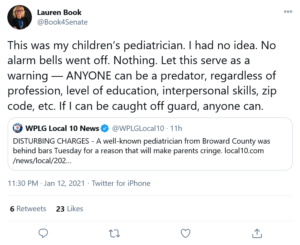 The Senator's own comments make the point that we've been trying to make for years. Perpetrators of sex crimes can by ANYONE. Not only that, but in the overwhelming majority of cases it is someone known to the victim, such as a teacher, coach, friend or family member. As Sen. Book sadly and unfortunately knows, it can even be the nanny hired by your parents to care for you, or the pediatrician you brought your own children to.
If we focus attention and resources on a stupid list, we are diverting focus from the more likely perpetrators and creating a false sense of security. Instead of telling parents to check the registry in advance of Halloween and implying children will somehow be safe, we should be telling parents to accompany their child to every single door they knock on.
Instead of investing so much time and money into perpetually punishing former offenders, we instead need to apply those resources towards prevention. Instead of investing so many resources into perpetuating stranger danger myths and other nonsense, we need to focus on education. Education based on actual best practices and empirical research, not misinformation.
The sex offender registry gets this so wrong!