Miami-Dade County, under the direction of Ron Book, is trying to do another sex offender shuffle. The same corrupt crew that legislated registered sex offenders into homelessness (thereby creating a colony of registrants under the Julia Tuttle causeway, which then moved them to an intersection in shorecrest, which then moved them to a warehouse district along railroad tracks in Hialeah) is now planning to once again move the encampment of over 270 registered sex offenders to an intersection in a remote area of Homestead.
You see, they figured wrong when they thought the colony wouldn't bring complaints in a warehouse district, but when business owners complained and health issues emerged, they had to come up with another plan. So, under the direction of the perpetually bitter Ron Book (who caused this mess in the first place), they orchestrated a change to a county ordinance that prevents overnight camping, enabling them to arrest the sex offenders on site.
Under threat of arrest and a looming deadline of May 6th, the registrants are being told to move to their new digs… the corner of Krome Avenue and North Kendall Drive. It's not a residential area, it's not industrial. There's nothing (see below) except a quarry close by. No public transportation within a mile from the spot.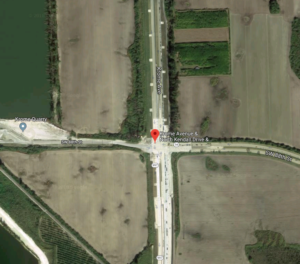 There is still no potable water, sanitation, toilets or other basic services at this location and there are no convenience stores anyplace close. No access to public transportation so these guys can get to work, treatment or go home during the days (yes, many have homes but are forced to sleep outdoors).
Confusingly, this "overnight camping" ordinance is being enforced at the railroad tracks in Hialeah, but apparently the police and Ron Book's "Homeless Trust" is sending them to a different intersection to "overnight camp".
The problems this county's residency restriction has created have been extensively covered over the past decade, since the days of the Julia Tuttle Causeway. Please contact your local media and let them know about what is going on here and please with them to report on it! These are human beings!
Ron Book will not be satisfied until these men and women are extinguished or used to populate his for-profit prison client, GEO Group. The spineless politicians in Miami-Dade won't even let a genocide stand in the way of their pay-offs.
DO SOMETHING NOW!