As Legal Services of Greater Miami attorney Jeffrey Hearne cautioned the Judge and the media less than one week ago; unless something is done (about the 2500 foot exclusion zone) new encampments will pop up and "the cycle will continue."
It took less than a week after hundreds of registrants were evicted from a warehouse district along the railroad tracks near Hialeah for a new encampment to emerge; "Bookville V", is named after lobbyist Ron Book, the man who not only created the laws that force sex offenders to cluster in small pockets of availability in Miami-Dade County, but also the person who then kicks them out of those pockets. This new location will be the fifth time "the cycle has continued", the first being the notorious Julia Tuttle Causeway encampment.
Located under and alongside the State Road 112 bridge, there are already 75 men and women registered to the location. With a couple more days for registration deadlines, and individuals who will undoubtedly get kicked out of other temporary locations they scattered to after this week's eviction, we expect more to be added daily.
Below is an image of the site, taken from Google, before the registrants arrived. Notice the absence of any shelter.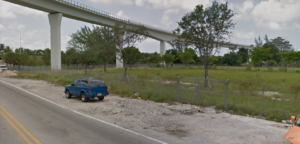 Below is a screenshot of the Florida Department of Law Enforcement (FDLE) map with overlapping tents as icons depicting the transient registrants.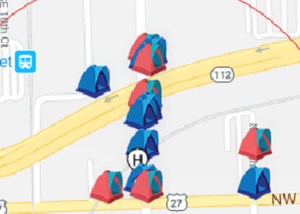 We will keep you updated.