As we go through the printed materials collected during the recent conferences, we came across a letter from the Mayor of the City of Houston, welcoming the attendees of the NARSOL Conference. We thought it was important to share this letter with you because it exemplifies a change in the attitude of some politicians towards our movement.
Years ago we worried about our safety at these conferences. We tried to keep a low profile. Not alert the communities of our presence for fear of protests… or worse. Times are beginning to change!
In his letter, Mayor Sylvester Turner and the City of Houston "applaud [our] restorative justice efforts on behalf of marginalized citizens." Wow! It is so refreshing for our cause to be welcomed, and to be welcomed, in writing, by a politician with the integrity and political courage to recognize citizens who have paid their debt to society are deserving of a second chance and the opportunity to be reintegrated.
A copy of the letter can be found here: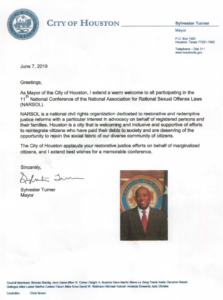 Those wishing to send a well-deserved thank you to the Mayor can do so here:
Mayor Sylvester Turner
City of Houston
P.O. Box 1562
Houston, TX 77251
[email protected]